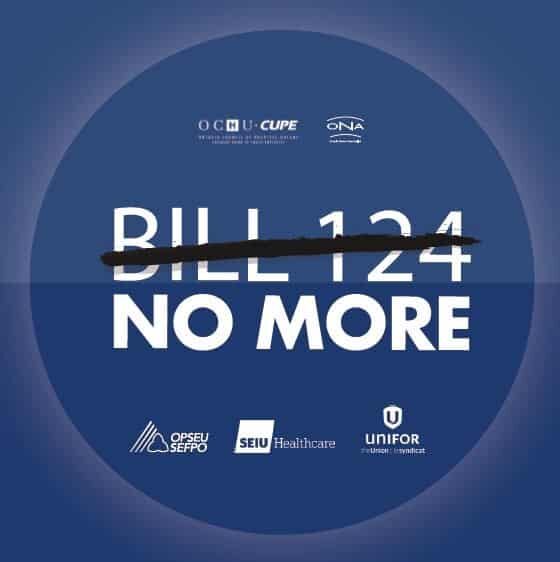 2022-12-20
Bill 124 NO MORE!
Unifor, OPSEU/SEFPO, CUPE, ONA, and  SEIU loudly declare – "Bill 124 no more!"
After many years of health care workers' wages being capped by the unconstitutional Bill 124, the Court's decision on November 29 to strike down this legislation was a massive win for workers. Now, instead of respecting our right to fair collective bargaining and focusing on immediate solutions to fix Ontario's struggling health care system, Ford is focusing his efforts on appealing Bill 124. The deadline to appeal is December 29.
Ontario's health care unions have joined forces to tell Ford: listen to frontline workers and take action to stabilize Ontario's public health care system. It's time to invest money into solutions; not into wasting millions of dollars fighting health care workers in court!
If you haven't received a sticker yet, you can still participate! Please click these links to download the English or French #Bill124NoMore take a picture to show solidarity.
A show of collective strength, solidarity and unity is the first step to ensure that Ford knows we are ready to fight! This sticker action is part of our larger joint call on the Ford government to action the following solutions:
Respect workers – don't appeal the Ontario court's decision on Bill 124. Allow collective bargaining to determine wage rates to stabilize staffing levels.
Boost frontline staffing – provide responsive incentives to the current workforce, and return to work incentives for those who have left.
Relieve administrative pressure – hire new hospital support staff.
Invest in people, not profit – restrict the use of private health care staffing agencies.
No privatization – commit to invest all new funding in public hospitals.
Let's make sure that Premier Doug Ford and Health Minister Sylvia Jones get the message: #Bill124NoMore!